Facial scarring is a common lasting effect of acne which occurs in most adolescents. Acne is linked to the hormonal fluctuations of puberty as well as diet. The skin becomes inflamed and congested with oils, sweat, and dirt so that eventually cysts form beneath the surface of the skin. This results in atrophic scarring of the cheeks and forehead. Acne is the most common cause of facial scarring and difficult for dermatologists to treat.¹ We'll review common treatment options and the emergence of topical platelet rich plasma (PRP) as a successful adjunct to perforative therapies like ablative laser and microneedling.
Ninety-five percent (95%) of acne scarring occurs on the face. Facial scarring can have psychological effects so dermatologists and cosmetic surgeons are often asked to repair scarred tissue.² Dermatological standards include invasive acne scar removal therapies like cryotherapy for keloid scars, ablative and non-ablative laser treatments, or punch excision, elevation and replacement procedures. Microdermabrasion and chemical peels with glycolic acid, salicylic acid and trichloroacetic acid are used to treat superficial scars by damaging the top layer of skin, and therefore spurring new growth.
Researchers Evaluate Platelet Rich Plasma to Treat Acne Scars
Researchers in two separate comparative studies have found platelet rich plasma to be a helpful addition for the repair of damaged tissues. A 2014 study by researchers from the American Society for Dermatologic Surgery, Inc. compared the application of topical PRP to intradermal injections and placebo. The study included 30 participants (18 men and 12 women) aged 19-35 with atrophic scars from inactive cystic acne. The patients were divided into two groups. Both groups received ablative carbon dioxide laser treatment and split-face therapy. Group 1 received laser with PRP injections in one half and saline injections in the other and group 2 received laser combined with topical PRP or intradermal PRP injections. Each patient received 3 treatments at 1 month intervals.³
The PRP was prepared from 10 ml of autologous blood drawn into a tube with 1.5 ml of acid citrate dextrose (an anticoagulant). The sample was centrifuged at 400 xg for 10 minutes and separated to yield 1.5 ml of PRP. Researchers added 1 ml of 3% calcium chloride to activate the platelets prior to injection. Injections were administered at 10 different locations spaced about 1.5 cm apart.
Injections or topical PRP was applied after the use of fractional ablative carbon dioxide laser. Ablative laser treatments injure the skin with microscopic thermal channels. As the skin heals, the bed of an atrophic scar is raised through re-epithelialization and collagen remodeling. PRP was shown to benefit the healing process by significantly reducing scar depth compared to placebo, with fewer side effects, and shortened downtime. A third party dermatologist evaluated before and after photos, assessing skin smoothness on a 4-point scale. Scar depth was measured with optical coherence tomography.³
Topical PRP Improves the Appearance of Acne Scars over Vitamin C
Another study found similarly promising results. Researchers at the Bowring and Lady Curzon Hospital in India studied the application of platelet rich plasma following microneedling to reduce acne scar appearance. In the 2014 comparative study researchers enrolled 30 participants to receive 4 sessions of split-face therapy at 4 week intervals. First, the entire face was anesthetized with a thick layer of topical anesthetic cream. Once local anesthesia was fully active; patients received microneedling from a drum roller studded with 192, 1.5 mm needles. After microneedling procedures, the clinicians applied 2 ml of topical PRP to the right side of the face and 2 ml of 15% vitamin C to the left side.⁴
PRP was prepared from 10 ml of whole blood, drawn into a tube with an anticoagulant (acid citrate dextrose) then centrifuged at 1500 rpm for 10 minutes to isolate platelets. A second centrifugation yielded PRP with 4.5 times more platelets than whole blood.
Change was evaluated according to the Goodman and Baron scar grading system where grade levels increase with scar visibility and depth. Researchers found that 18.5% of scars in the PRP treatment group showed excellent improvement by decreasing 2 levels on the Goodman Baron scale while only 7% of scars in the vitamin C treatment area showed an excellent response. Additionally, 37% of scars in the vitamin C group showed no improvement.⁴
Better Outcomes with PRP Therapy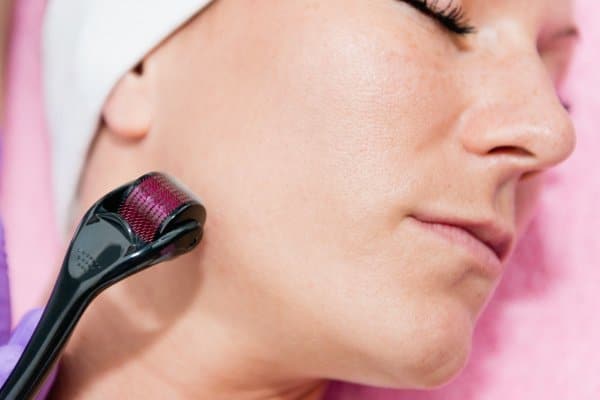 Many clinics have hit on the winning combination of an abrasive procedure like the controlled damage of ablative lasers or microneedling followed by the application of topical PRP for the improved appearance of skin. Researchers attribute the improved appearance of skin with the release of growth factors from platelet degranulation. Platelet alpha-granules contain several growth factors known to rebuild collagen and elastic fibers. Growth factors such as platelet derived growth factor, transforming growth factor, vascular endothelial growth factor, insulin-like growth factor, fibroblast growth factor, epithelial growth factor, and keratinocyte growth factor improve the appearance of atrophic scars by rebuilding the underlying collagen structures.
Get an Instant Quote:
*We Typically Call Within 15 Minutes!